This system is designed to display on your TV. It needs no tech setup everything is programed to work when plugged in. It is not recommended for phone and computer viewing at this time. Those customers should view the High Def Wireless System. This has been introduced as they discontinued the transmitter for our older Traditional System. If you have that and are looking to upgrade, give us a call.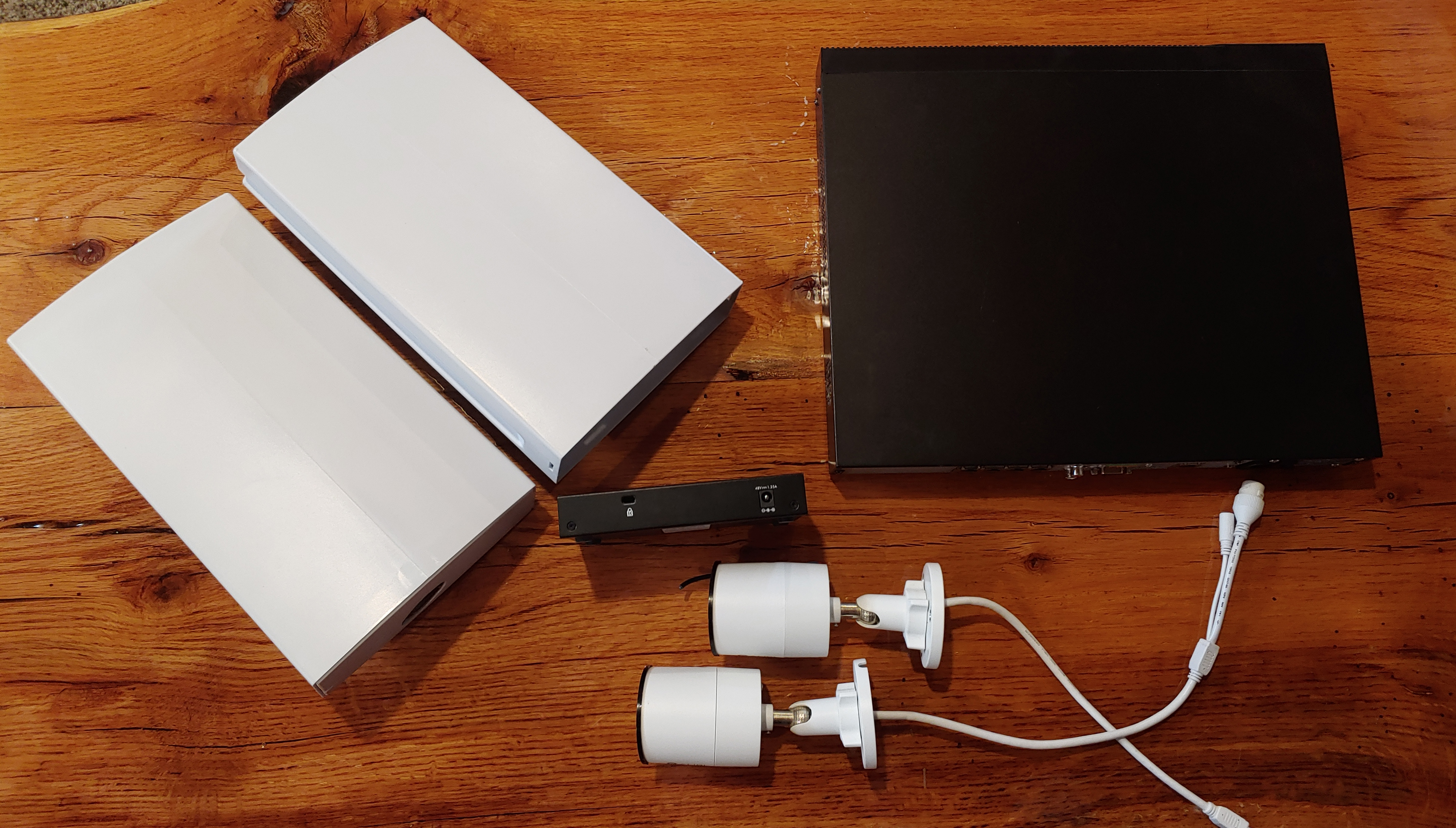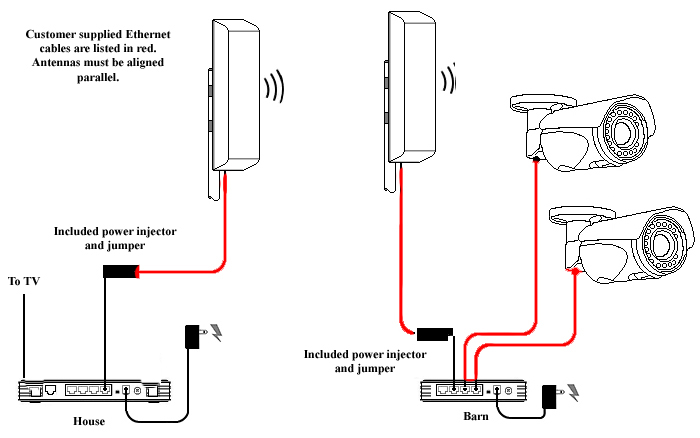 About the System
The Stand-Alone Wireless System was developed in 2019 after they discontinued the analog video transmitters we had sold for 22 years. It is an industry first in that it combines the best of modern technology with the ability to operate from your barn to your TV without any Internet, router, local network or computer. It uses our 3 mile line of sight antennas used in thousands of HD Barn Camera Systems over 5 years.
About the Transmitter / Receiver (distances)
This system includes our 3 mile line of sight transmitter and receiver. It is effective through many obstacles, but distances and effectiveness depends on those obstacles. If in doubt give us a call. We recommend external placement of both antennas and cannot guarantee distance without knowing the obstacles, but the reality is most people can operate the house antenna from inside so long as it does not have to go though masonry or metal on it's path to the barn. Tree limbs are ok, forests are not. The antennas connect inside to the barn and house with Ethernet cable and do not require any power outside. The antennas can be operated with multiple barns to a single receiver so long as the angles are within limits. As always, don't hesitate to call.

I
About The Camera
Riverwind's cameras are chosen and adapted to function with our wireless equipment in the toughest environments. From the extreme heat of the southwest to the frigid northern states, Riverwind has been placing cameras in barns for 23 years.
We offer two camera options standard but can customize anything up to 4K and varifocal lenses.
By default, this system includes a 2.8mm aluminum houses weatherproof camera. It has an Infrared rating of 120 feet and includes Starlight vision to increased visibility at night. This 1080p High Def camera gives you a very clear image with the ability to digital zoom in for more detail. These are the same spec we've used in our HD Wireless system for the past couple years and most of the customer images in the gallery. The camera will see a 103° field of view. Corner placement works best unless you are putting multiple cameras on a large area. Then just divide it up in 50 ft. squares so you'll have some overlap.

We also offer the same camera specs in a plastic housing without the Starlight vision. This 1080p weatherproof camera has a slight less IR rating of 100 feet and also sees 103° field of view.
This system is not proprietary, any ONVIF compatible camera can be programed to work with it. We don't plan on going anywhere, we've been doing this since 1997, but we also believe you should never buy equipment that is not the industry standard. We have spoken to 100's of people who bought systems only to have them change models or go out of business. Don't invest in something only one person sells or can replace.
Power and Cable
This system operates off of a single AC outlet in the barn and a single outlet near your TV. The antennas and cameras each operate through Ethernet Cable. This cable you pickup locally. This allows you to quickly increase lengths or obtain replacements should you need to in a hurry. Ethernet cable (either Cat 5e or Cat 6) looks like big phone wire. It can be purchased at any hardware store and most retail outlets. You can make your own with a crimp tool and roll, BUT be sure you purchase a cable tester. Nothings more frustrating (and can damage the equipment) than a cable made wrong. You can't go wrong with premade cables.
You do not need any power at the cameras or antenna location. The units will receive power through the Ethernet cable from the control boxes in the barn and house.
Recording
This system is cable of recording cameras full time and on motion. Aside from security, this is handy when determining how long she's been in labor, or when did that happen?
Viewing on your TV
The home control unit will plug into any TV with an HDMI jack. It will also connect to a stand alone computer monitor if you don't want to use the TV. The home unit connects to your TV with Ethernet cable, BUT it will also work across Powerline Ethernet adapters if running a cable to the TV is not practical. We don't sell them but they're available online for under $40. For more information on these adapters, give us a call.
Viewing on your Smartphone and Computer
At this time, we are programing and providing support on this system for TV viewing only. Although it will operate on PC's and phones if connected to a router, it requires much more Internet (upload speeds above 1 MBPS) and unlimited data. If this is you, give us a call and we'll explore your options.
Key Benefits
Provides 1080p clarity on your TV without any tech knowledge. We preprogram all equipment to be plug and play.

3 mile line of sight antennas for increased distance.

Weatherproof camera available for other uses (barn lot in the summer or security)

Additional cameras can be added. You only pay the difference. A piece at a time is the same price as all at once aside from shipping cost.

Add a hard drive (now or later) to record labor, heat detection or security.

Weatherproof transmitter and receiver (should you need to place the receiver outside).

No outlets are needed at the camera or antenna locations

Satisfaction money back guarantee.
So we don't have to maintain 2 different shopping cart sites, this link will take you to our other site's shopping cart. It contains additional photos and is more tailored for larger pen sizes used by cattle, sheep and goats. The link will open in a separate window. You can use the shopping cart to price the exact system you need or order. You do not need to enter your information. Adding your zip code will provide a shipping quote. As always, don't hesitate to call with questions or to order over the phone.